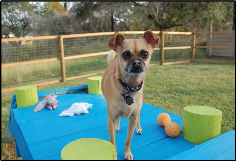 Doggie daycare is a great way to keep your pet happy and healthy. We have 6 yards and 6 different playgroups daily. Each playgroup is carefully monitored and formed by size, temperament and age.
We guarantee to provide a full day of stimulating games, indoor, and outdoor activities, and even a little obedience training.
All playgroups are monitored at all times by our daycare specialist who have specially trained in animal behavior and safety.
Doggie Daycare Hourly Rates
$3.00 per hour
$20.00 per day
$5.00 per hour
$30.00 per day
No unneutered males will be allowed in group play but will have full access to independent play time. 
*All Services + Tax
*Prices are subject to change
Pets must be current on Rabies, Dist/Parvo and Bordetella.