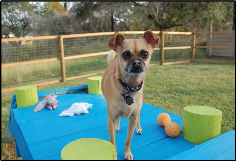 Doggie daycare is a great way to keep your pet happy and healthy. We have 6 yards and 6 different playgroups daily. Each playgroup is carefully monitored and formed by size, temperament and age.
We guarantee to provide a full day of stimulating games, indoor, and outdoor activities, and even a little obedience training. 
All daycare guest are temperament tested prior to being allowed in group play.
All playgroups are monitored at all times by our daycare specialist who have undergone special training in dog behavior. 
Doggie Daycare Hourly Rates
$3.00 per hour
$20.00 per day
$5.00 per hour
$30.00 per day
No un-neutered males, in-heat females or known aggressive dogs will be allowed in group play but will have full access to independent play time for an additional fee. 
*All Services + Tax
*3% surcharge on all card transactions 
*Prices are subject to change
Pets must be current and have proof of Rabies, Dist/Parvo, and Bordetella vaccines given by a licensed Veterinarian.